Alight; a mixture of four creative and originals members, following a dark, a sinister and a very melodious path! They want to give identity to their Gothic and Electronic Metal music, hoping that their passage by the current metal field will be etched in our minds. An unusual Italian band that will probably tag along Graveworm's steps and shine far above the ground sooner or later!
Let's see more in their interview!
RargouTia: Alight! We could merely see light, all the way through your music and your melody! Therefore, a member introduction will be great?

   Alight : Our actual line-up is Elena (bass), Eddie (guitar) and Mirko (drums).


RargouTia: All right! The question that we could never avoid; why did you exactly choose "alight" as a name for your band?

   Alight : Alight reflects light, fire, passion… That is what we are in our hearts and want to give to our fans with our music. But the real reason to choose Alight as band name will remain a secret.


RargouTia: If I'm not mistaken, "alight" went through different experiences and situations since the beginning of your career, would you summarize a bit?

   Alight : We have had a lot of great experiences, performing live at festivals and recording our CD in studio. Obviously, we have had our problems as well, but tell me the name of a band which hasn't had any and I will go to Moscow on foot hehe!!


RargouTia: What about the current line-up? You're only three, isn't? At this time, how are you managing your work with just the three of you?

   Alight : Yes, actually we are only three, we are only three right now, but we are looking for a new singer at the moment. How do we manage our work? Well, everyone does what he/she can best, from synthesizer track and electronic drums programming to composing songs, writing lyrics, translation and pr stuff. Everyone of Alight gives the maximum to bring forward the project.


RargouTia: Unfortunately Mary, Alight's former female vocal, quit the band, some while afterward, Why was that?

   Alight : It is very difficult to find the right words to explain that. I guess Mary wanted to try something new and Norway is a great country!


RargouTia:  So she joined Tristania, interesting!! But couldn't she, at least, sing for both band, even help you, guys. Or most likely she prefers to sing for a well known band?

   Alight : Well, Norway isn't around corner, is it? So, even if she first was convinced to be able to continue with both bands, we all realized that is was impossible to continue like this.


RargouTia: Do you think that Mary as Tristania's vocal is better than Mary as Alight's vocal?

   Alight : I think Mary is doing a great job at Tristania! But to be honest, I haven't heard really much yet, I am waiting for the new CD to make myself a better opinion.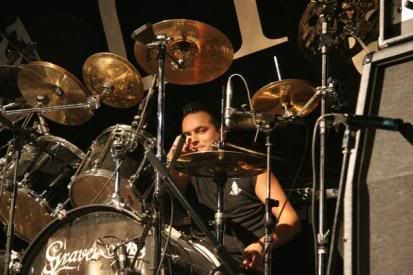 RargouTia: I see that Alight had canceled all of their concerts in 2008, even the next release of their new album! How are you dealing with this? Or accepting it as simply as it's obtained will be just the right solution?

   Alight : It was really like a shock for us in the beginning. We had been working hard for several years to come to this point. One of our main goals of this year was to perform
live at the "Metal Female Voices Fest 6" in Belgium, and they had already confirmed us. At that time, Mary was still singing for us, but had just joined Tristania. I cannot explain all reasons now, but we had to cancel that gig, and it was at that point of time we realized that it couldn't go on like this. However, we hope to find a new good looking talented singer as soon as possible to become operative again and perform live again. So we hope to catch up on everything, play at the "MFVF 7" and perform all cancelled concerts and festivals, and release our new album with the new singer.


RargouTia: All right now, let's move on! Tell me about your main influences? And as I know, alight is an electronical/gothic metal band, why did you choose to play this type of music? Why not "black metal", that turned the recent metal scene up side down?

   Alight : We all have completely different influences. Everything from classical music, jazz, black metal, hard rock, pop, gothic, disco music, death metal etc...


RargouTia: And speaking about "black metal", what do you think of the Italian band, GRAVEWORM?

   Alight : I know Graveworm well, we have been friends for a very long time, and we go out and have fun together. Musically speaking, I really like their style.


RargouTia: It seems like Italian metal bands are starting to rule the international scenes and speaking of bands from Italy, we could mention Lacuna Coil and Theatre des Vampires, and what do you think of the huge progress they made?

   Alight : Cristina and Scarlet have a great voice! And I really appreciate the other band members as well! I enjoy their show and they really deserve all the success they are having!
 

RargouTia: Did you ever hear talking about a much endowed Tunisian metal scene?? If so, what do you think of it?

   Alight : I have always been interested in different places, and I had heard about the Tunisian metal scene as well. I have been there for vacation and I would find it great to have the opportunity to perform in Tunisia with my band.


RargouTia:  Great! Now, let's talk about your concerts. I discerned that you had participated in many festivals especially in Italy? Let's hear it from you?

   Alight : Yeah, we have performed at some shows, with bands like Primal Fear, Brainstorm, Legion Of The Damned, Holy Moses, Apophis, Graveworm, The Sorrow, Bonfire, Novembre, and also a festival in Austria with Darkwell. And this, although our CD hasn't been released yet.



RargouTia: Now, are you still looking for a label to continue your musical project or not any anymore?
   Alight : Yes, we are still looking for a label to release our CD and to help us continue our work.


RargouTia: As well as you're looking for a new vocal that substitute Mary, isn't? What are the qualifications that might be available in the next vocal for ALIGHT?

   Alight : Well, as you say, we are still looking for a new singer. We have already got a lot of mails from different singers from all over the world, and we have already started with the selection, but it will take some time. Qualifications? We have specified some of the qualification on our MySpace, she must have a nice voice, and be good looking. Anyway, we aren't looking for a clone of Mariangela. The new singer should bring her own style and influences with her.


RargouTia: Well, what about ELENA, your bass player isn't? It seems unusual to perceive a female bass player nowadays, especially in metal? We want to see your clarification, would you?

   Alight : Well, honestly I can't see the reason why… I personally know several female musicians, I see no difference there. We chose her for her talent and musical passion and devotion to the band. She really does everything she can to carry on our project.


RargouTia:  We want to take a part of your opinion in this: what do you think of the current metal and hard rock scene in all over the world?

   Alight : Well, the first thing I must think of is Internet. Nowadays every band has the possibility to become known through Internet, in primis MySpace. Not like the 70s and 80s where a producer picked out a few bands and made them become big. Now there are thousands of valid bands around the world, and it is really difficult for any band to become famous. This applies not only for the metal and hard rock scene but also other genres.


RargouTia: Fair enough! We are wondering about your future project, is there any, or not yet?

   Alight : Even without a singer, we never stopped believing in our project and are still working hard every single day. Anyway, we are not ready yet to reveal any details of our future projects.


RargouTia: As you know Italy is very close from Tunisia, did you ever think about organizing a concert, here??  I assure you, you will be very welcomed!

   Alight : It would be a honor for us to perform in Tunisia! As soon as our new singer will be ready to go on stage, we will be able to accept invitations to perform at concerts and festivals.


RargouTia: We will appreciate it if you scratch for us some last words, would you please?

   Alight : I would like to thank all our fans, and especially the friends who are always there, when you need them! Thanks from the bottom of my heart!


RargouTia: Thank you very much for giving us this magnificent interview, we hope to see you someday!

   Alight :  Thank you, it has been a pleasure!
 
www.alight.it
www.myspace.com/alightband