| | |
| --- | --- |
| |    Finland is indeed, a very well-known place in the Metal Domain, with many successful bands and promising ones, here we bring you one band as promising as it is successful, Manufacturer's Pride is a distinguished band bringing you distinguished Music for your listening pleasures. |
El Evil Emperor: Hails to you, how are you and how is your Touring going?

   Mikko: All is good and nice, and in fact it seems that at the moment we are having little break from playing live...

   Antti: I'm fine, trying to recover gigs from Latvia and Nummirock, at the moment, we are having a little break from playing live.

   Mikko: Next confirmed gig is in August, if my memory doesn't fail me.

   Antti: Yeah, in FINN HITS FEST with Scar Symmetry, Grave etc...It would be nice to play more summer festival gigs.


El Evil Emperor: Interesting, let's talk first about your debuts and beginnings? How did you come up with the band?

   Mikko: The guys had been playing for years and they had some shit going on and needed a vocalist.

   Antti: And a Synth guy.

  Mikko: So our drummer Ville introduced me to the band and I stuck...

   Antti: So we are the "new" ones on the band. The other guys have been playing like ages together with other projects, but I have been friends with rest of the guys many years before Manufacturer's pride.


El Evil Emperor: Did you have a stable Lineup or were there some changes along the way?

   Mikko: Miraculously the lineup has stayed the same and evidently will in the future :)
despite our differences we tend to get along pretty fine

   Antti: Yeah we have had stable lineup all the way. I knew all the guys except Mikko. To be honest if there ever will be any changes in the lineup I believe we wouldn't be playing as Manufacturer's Pride anymore.

   Mikko: Yeah, we'd start doing country!

   Antti: Country Pride!


El Evil Emperor: A harmonious lineup is something vital in bands, let's move on to the next question: A strangely distinguished name indeed, why the Name Manufacturer's Pride? Anything to do with maybe some Socialist points of view?

   Antti: This one is for Mikko.

   Mikko: Well no, it's not political... And I've never been too blue collar myself... It's more like a religious satire, as in the biblical myth the god is the creator and men his product. And I don't think too much of religion and neither of men... Hence Manufacturer's Pride.
It is expressing my disgust without actually being too transparent.


El Evil Emperor: Does it really reflect all of the band members' conviction,  or yet to attract furthermore the metalheads community?

   Mikko: I think the other guys stick to playing and leave the politically incorrect shit for me, *smiling* They let me say pretty much what's on my mind and I let them play what they want.

   Antti: That's pretty much how it works with us. We all do our own area and see what kind of mixture would it be.

   Mikko: And I don't know if there is that much to be said about founding... at least to me it was just a stroke of luck, the others knew each other already and were making new music, I just stumbled across; then we just started doing our first album

   Antti: Yeah right away because we had couple of songs before Mikko joined, we just needed a vocalist.


El Evil Emperor: So besides doing Vocals, Mikko is the lyrics maker, yet who's your riffs maker, and how does the composition process proceed? Do you have a main composer in the band, or do you make your songs in an experimental way?

   Mikko: Our bassist Rinne is the main composer, we kind of add to that our own stuff. Our guitarist has also done some songs, but mainly it is our bassist... And yeah, I write the lyrics.
But the process could be said to be experimental, at least with our latest album... I pretty much at least did everything in studio, wrote the lyrics and done the vocals. *smiling*

   Antti: Rinne is the main composer but we all add our own flavor to the songs after some kind of song structure is ready, for instance I did all my Synth parts at home, alone. The Internet is a wild thing these days, you don't need to sit down with all the guys in the studio, just record some parts and send them via email or something to everybody, and it just worked fine with us, at least with me.

   Mikko: Yeah, I'd lose my nerves if we had to do it in the conventional way, with everyone together.


El Evil Emperor: Ok, were there any difficulties encountered within the Finnish community along the way? Anything that made you as successful as you are now, especially maybe while making your first album?

   Mikko: Now I just can't think of anything... but I don't know about being successful either, too few know of us to my liking.

    Antti: Maybe with our dress code, some true heavy dudes have been crying for that and off course there's so much competition in this country, land of metal music , so you really have to be something special to stand out. I still don't think us to be that successful at the moment, or maybe it's just our way of thinking. We can be bigger and we will be. It's all up to believing what you do, Mikko can add something to here…

   Mikko: well yeah, maybe some "true" metalheads were bitching about our style, musical and not, but I don't see that as a problem, I just see a few wankers not being able to think outside the box, … Nah, I'll pass, at loss for words…


El Evil Emperor: I see, well Finland IS one very interesting place for Metal Music: Where does Manufacturer's Pride see itself in its realm? And what are your future hopes and ambitions?

   Mikko: That's hard to answer in a way, cause I don't compare us to anyone and sometimes I even forget about the other bands :D as most of them are complete shit to me anyway...
There's only like a couple of metal bands in Finland that are really good in my opinion.
About hopes: I hope that the work we do won't go wasted and that we get more and more interesting gigs. I'd hate to spend years and years of work on something and go unnoticed. but I'm a bit narcissistic anyway.

   Antti: Yeah would be nice to get more and more some better gigs, which is hard. But I believe we can achieve it doing what we can best: some kick ass music, and of course looking good. *laughing*

   Mikko: That's what we do best! music comes second...

   Antti: And would be nice to get that visual side more up, with something special.

   Mikko: Although building a stable fan base can be quite tricky, as we are going to sound totally different on our next album. If people liked our previous music, they can never know what to expect from us next.


El Evil Emperor: Yes, about that: While seeing your videos and photo session pictures, one can say that you like suits very much? It adds indeed more elegance yet is there any specific reason for liking suits this much? And can you tell us whose idea is it?

   Mikko: Ah, the suits... It's just a formal attire that makes it clear that we are serious about what we do, and appreciate it, and our listeners as well, and it also brings a level of unity to our group; we are after all from different backgrounds, so it visualizes our shared purpose in music.

   Antti: That's pretty much all of it.


EL EVIL EMPEROR: Very well, you had many problems with releasing your latest Opus, and you have declared, concerning the reasons: ' it really pisses us off because people around us who we have trusted won't do their work at the time.' , now that your album was released, care to share the reasons of the constant delaying with fans?

   Mikko: Well, I don't want to go into any details, but the problem was solely with the cover art.

   Antti: Yeah mainly, it's hard to release album without cover art. We had to take the whole thing to our own hands and search a new guy for the job, it was supposed to come outs few months before actually, but without covers you can't release it.

   Mikko: It was very frustrating and brought up a lot of hate back then, but in the end we managed to work it all out and still come out with a great release.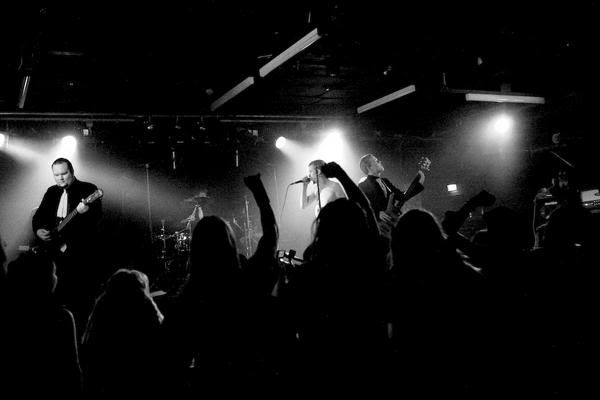 El Evil Emperor: But who let you down? Who wasn't worthy of your trust, you still haven't gotten into details.

   Mikko: The guy who was at first supposed to do the work, and also in a way our record labels contact guy who was working the whole shit... but the details are not relevant anymore, at least I don't want to go slandering anyone about it anymore...
Sometimes some shit don't work and you've got to work around it. It got us some gray hairs, cause a lot of people were expecting the album, but in the end no, damage was done, only some trust was lost.


El Evil Emperor: Indeed, so Sound of God's Absence, another title by Mikko probably? Tell us about the whole recording and releasing process.

   Mikko: Yeah, my title. *smiling*.
The recording process was easy and painless, we worked as we saw it fitting and tried out some new ways to do it, the package was supposed to be ready to go into print in September if I remember correctly.

   Antti: We all made our own parts and recorded the album in several places after that we recorded drums, vocals and mixed it in studio, I did all my Synth parts at home in my little studio. After that gave them to the dude who mixed the whole stuff, so basically we all had free hands to do what we wanted.

   Mikko: Yeah, only some deadlines to catch... which I tried to escape. *laughing*

   Antti: And maybe that's why we don't sound as a product of one person.
Mikko: There was this one day I was supposed to go to studio, and I had to wake up a few hours earlier to write 3 songs, cause I had nothing to go to the studio with... But I work best under pressure.

   Antti: It was pretty experimental, which worked out just fine.

   Mikko: It worked out so nice, that I don't want to do it any other way anymore, but for the sake of experience, I could try to do something on schedule next time...

   Antti: *Laughing* Yeah me neither!


El Evil Emperor: Yes, experimentation can be very fruitful.
Mr. Lampinen, since you mentioned your compositions: many of your favorite artists as s few websites source are bands such as HIM, Björk, and Hatebreed, … Was this an influence in your work, or do you find that Synth in Metal releases can be more difficult than in other genres.

   Antti: Nah I actually find it easier. I listen mostly to electronic music in all forms of it and compose some own material too. I hate these normal heavy styled Synth riffs playing with guitar, they are so overused and boring. I want to bring some experimental ambient sounds and all kind of weird stuff to metal, I mean why not! It can sound amazing and be much more interesting than doing it the normal way.
And I'm not thinking us as some kind of industrial metal band because of it. It doesn't mean industrial if you have some other sounds than normal Synth riffs playing all the time.


El Evil Emperor: It does add charm to your riffs, and yes it certainly is not Industrial Metal.
Let's talk a bit about you Label: With your CDs sold at 12$ to 18$ and other Merchandises available to your fans, Off Records must have been providing you with respectable contract terms, can you tell us about your signing deal and future Label options for the Band?

   Mikko: We signed to Off Records in 2006 and the deal was for two albums. Now that we have done two, we are actually looking for a new label with which to work on our next release.

   Antti: Off Records gave us good ground to stand for, but we are looking for maybe some bigger label now.

   Mikko: We haven't exactly been too happy with what we have got, since we currently don't even have any merchandise to sell, we don't have posters, all we got was a bunch of stickers… But yeah, we are looking for a new label with which we will continue our business.

   Antti: At the moment, the whole music industry is totally fucked up and nobody has the money to bring up new upcoming artists because it needs more than just good luck to be in the next big thing.

   Mikko: And some handle it better than others.


El Evil Emperor: I see, so are you planning any future gigs or touring in the near horizons on your own? Want to share this with us?

   Mikko: Yes, Antti has been working on some mini tour .

   Antti: Yeah we are going to do little tour in the autumn with bands not the reveal yet, but I can promise they will be some kick ass bands. *Wink*
Hopefully some tours abroad in the near future also, just contact us if you are interested. *Hint*

   Mikko: Yeah, Europe would be nice...

   Antti: Definitely


El Evil Emperor: Well, what about Nummirock? Leaked information says Stuffs with bands like Arch Enemy, Napalm Death, … Care to tell us about it?

   Mikko: Well, I spent two days in a stupor in the forest, sobered on Saturday and played, then returned to our camp to drink more.... I did see Napalm Death perform and one song from Arch Enemy, but that's pretty much it. I don't like hanging out in the back stage area and making friends with other bands, in that aspect I'm quite anti social... I just like to play and then return to solitude with friends.
I did go to the Napalm mosh pit, I was that social after all.
In that way we are a boring band, that almost never anything crazy happens to us, at least directly.


El Evil Emperor: Is there a special venue / gig where Manufacturer's Pride would like to perform? Any certain Band that you look up to?

   Mikko: I do admire Lamb of god, and some Scandinavian black metal bands, but nothing that I really look up to... Almost any place is good, any place where I haven't been before. Though not Russia, they don't really speak English and I don't understand Russian... But I'll go almost anywhere, as long as I'll get a roof over my head and free alcohol. I'm always open to new ideas.

   Antti: All new stages are somehow special to me, After all it's just having fun with friends in the best possible way.


El Evil Emperor: Good, So maybe after you guys hit Stardom we'll invite you then for Alcohol and a good Hotel Stay! And If you say No, we'll just show you the interview where you stated this. *Smiling*

   Mikko: Sure, I'd come anytime!

   Antti: If you invite us, we'll come

   Mikko: After next week, I don't have any plans for the summer... *Laughing*

   Antti: I have for next two weeks but after that I'm free to come.

   Mikko: Yeah, so we're coming! better start making the reservations... *Smiling*


El Evil Emperor: You're welcome, we'll be always happy to have a talented band perform here and anywhere, let's just get the promoters informed! Is there any certain points in your career that you appreciate most? Certain milestones, or important steps?

   Mikko: This summer has been perhaps the biggest milestone, getting to play abroad for the first time and first summer festivals, that's something I have been looking forward to

   Antti: Of course both the albums we released, and maybe Sound of God's Absence album release gig in Lutakko, that certainly was something. And yeah this summer.

    Mikko: Yeah, the pre-releasing gig, that was something, we had two guys performing from a Finnish freak circus: Circus Mundus Absurdus.

   Antti: Hopefully some bigger and bigger steps in the future, that's what we are aiming at.


El Evil Emperor: Thank you, it's been a pleasure, any final words to your fans?

   Mikko: *Laughing* If you don't support us, I'll come to your homes at night and cut you to pieces... And thanks to you.

   Antti: Thanks for the support, we'll coming to your town (or home) in the near future, that's for sure! And thanks for the interview.