| | |
| --- | --- |
| |    Hailing from the Russian Scene, Tantal is one of the bands steadily heading to recognition, the band has succeeded in drawing attention through its good Music, so we decided to interview them, to get a glance at their work. |
El Evil Emperor: Hello Tantal, we hope you are all doing fine, how was your last gig on October 17th in Club "The Night"?

   Dmitry Ignatiev: Hi! At first I want to say "thank you guys" that you decided to spend your time! I have to say sorry, but the last gig had been canceled, it was the promoters' mistake, so everyone in the band were disappointed. But it's not usual in Russia, so don't be afraid. *Smiling*


El Evil Emperor: It isn't indeed, we'll be awaiting then your next appearance on November if I recall well, to set the crowd on fire.
Let us start our interview with the classic 'how would you introduce yourselves to our readers'? Tell us how did you form the band and whose idea was the name "Tantal"? Also did you happen to have a name change from a former "Draught"?

   Dmitry Ignatiev: It was in 1998 we were just kids from school, and after classes we just gather together and tried to play our music idols songs. So after that we decided to write our own songs, of course it was not so serious as now. but it was the beginning. after that we constantly tried to improve our skills, we started to listen to more complicated music.
As for the name "Draught" it was the first name of the band. After that we change it on to
"A new reality" and finally, in 2004 we called our band "Tantal" which was invented by our ex-guitarist Alexander.


El Evil Emperor: As you said, Tantal has seen daylight in 2004, were you concentrating on Live Gigs, or on Releasing at first? When did you decide it was high time to produce something for the Russian Scene?

   Dmitry Ignatiev: We speak about 2004, so it is when we became more clever *Laughing*, and started to write new songs, we played without any purpose since 1998, we needed to release some record to show by ourselves what we have got for all those years. So, the main aim in 2004-2005 was to write new songs, more serious and mature! But simultaneously we gave some gigs. I think every band must give some performances from time to time.
In 2006 we were ready to record some of our new songs and did it with the Promo CD "Emotional distress" which was released by ourselves in the beginning of 2007.
It was a long way, during this time we lost our former guitarist Alexander, so it was really hard for all members, but we did it.


El Evil Emperor: Yes indeed.
As you have never mentioned it, I must ask if there were any conflicts leading to Bessilin's departure?

   Dmitry Ignatiev: No, never, we are still good friends, but he has just lost his interest in music. I think we're all like 5 kids even now, but he felt too old for it.


El Evil Emperor: I see; yet for some, Music is very rooted into their souls that age can't change nothing about the passion for it…
Let us talk about something else, also concerning the Lineup: Since you do not have a permanent keyboards player, what are you planning to do during Live Performances? Will Alexander Dronov be your Live Guest member, will you be looking for a Keyboards player, or will you simply use Keyboards samples?

   Dmitry Ignatiev: At the moment we don't need any additional member or samples, because there is not so much keyboards in our songs, so at the stage we won't use any keys. Only two guitars, a bass, drums and a girl, oh I mean vocal *Laughing*. But for the next album I suppose we will have to use samples, there will be much more of this stuff than in "The beginning of the end".


El Evil Emperor: Since you mentioned Sofia, the upcoming question will be about her, representing a somewhat, exceptional and rather rare element in our scene: Female Growl Vocals; we all bow of course before the divine Angela of Arch enemy, one of the pioneers when it comes to Female Growl Vocals, but how are the usual Critics about Sofia's Growl/Clean Alternations?

   Dmitry Ignatiev: Yes, it still is a rare element in metal scene, but now I can see more and more girls that can growl and scream, as for the critics, of course they always compare Sofia with Angela, but there is some piece of true - their voices are really similar only Sofia uses clean voice sometimes, I think this point is much more rare when the singer can do growl and clean at the same time.
But of course everyone who listens to Tantal for the first time says: It's Arch Enemy even if there is a big difference in music styles if you are an attentive listener.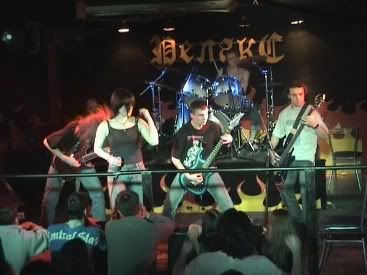 El Evil Emperor: Indeed, even if you're not paying special attention you can notice the obvious genre and Musical structure differences.
Let's keep talking about Musicians, only this time about those who worked with you on your Album: Andrey Smirnov of Everlost and Epidemia, Douglas Verhoeven of In-Quest, and Alexander Dronov of Valikiria, who all helped during the production of "The beginning of the End", how was the coordination and the atmosphere among you?

   Dmitry Ignatiev:  Andrey is my cousin, we are at the same age and of course we begun play the guitar together when we were kids,  In addition, I helped him with Everlost gigs as a session guitarist. So there weren't any questions and problems when I asked him to do some guest solo!
As for Douglas, he's my good friend, we met in Moscow a few years ago, when he gave a gigs in Moscow and St Petersburg where I was playing in my second techno-death band Rest In Pain and did a support for In-Quest. So, we just met each other, and begun to speak about music and guitars, in two days time we became good friends with Douglas and all guys from I-Q.
I gave him Tantal's EP "Emotional distress", after that started to communicate with each other via MSN or e-mail, almost every day and that's when I thought that it would be interesting if Douglas did some guest guitar job for our album! So, as you can hear, he did it, and I really like and am proud of this!
And finally, Alexander Dronov appeared really spontaneously! We almost finished mixing the album, but found that some parts were boring, so we tried to find a decision. Our sound engineer suggested Alexander as an original way to fill some missing parts. So, we just went to him, and in couple of days recorded some samples and keyboard parts. It was really a spontaneous decision but we are really glad that we invited him, Alexander added some unusual colors for Tantal.


El Evil Emperor: Let us talk more about your Album, the first thing that has attracted my attention is the fascinating CD Cover Artwork, how did you get the well-known Gustavo Sazes to design it?

   Dmitry Ignatiev:  Yes, it really is a cool artwork. We were not going to get such professional artist at first, we didn't even think about an artwork for the CD. Gustavo wrote me a message via MySpace, it was his initiative. I was really surprised! And that's when we decided "If we want to do a good quality record and album, we need to have a good quality artwork with a real professional", so, as you can see, we have a really cool artwork! it 's one more point we are really proud of.


El Evil Emperor: You have recorded at Selin's South Cross Studio and at Day Records as well, which has a well-known studio in Russia; so what can you tell us about the recording sessions?

   Dmitry Ignatiev: There were always a lot of fun moment during all the recording sessions, Eugene is a really positive person and really cool sound engineer. It was really easy to work with him and really fun. He always told jokes when we were tired or mentally exhausted by troubles during recordings. He always helped us with his professional advices!
As for South Cross and Vyacheslav, Sofia recorded all vocal tracks there; there were a lot of funny moment especially during growls recording, but also there were bad times, when Sofia broke her nose during clean voice recording sessions, so we had to stop recording for 2 or 3 weeks until she got well. There was a lot of stress, but the professionalism of Vyacheslv and Eugene really helped us.


El Evil Emperor: And so the album came out eventually, so how was your reaction to the reviews then?

   Dmitry Ignatiev:  We get only positive responses from music magazines and webzines. BUT we know all our weak points, and we are not going to stop working on them even with such warm critics.


El Evil Emperor: You have signed your first label contract with Mazzar Records, tell us how you got the deal, and what are you looking for with your current Label.

   Dmitry Ignatiev:  It was a long way to get the contract, you know, it's really a hard time for all musicians and labels to produce and release CDs, because all you want to listen to, you can get from the Internet for free. It kills music.
But we were lucky and signed a contract with Mazzar Records. It's one of the biggest Russian Metal labels, they gave the opportunity to fans to officially buy for bands such as Arch Enemy, Into Eternity, Krisiun, and Firewind.
And of course a lot of our musical idols were released in Russia by Mazzar, so it was a big honor for us to become a part of their catalogue, and at the moment we are looking for a distribution of Tantal's album outside Russia.


El Evil Emperor: Which brings us to my next question, Have you so far found any interested distros for a promising abroad 'expansion' of Tantal?

   Dmitry Ignatiev:  We have some offers, but there is no final agreement except an Indian distribution agency, so we are still open for cooperation with all parts of the world, USA, UK, and Italy. It's not so easy to draw people's attention to you, but we tried hard, so let's hope for good deals. *Smiling*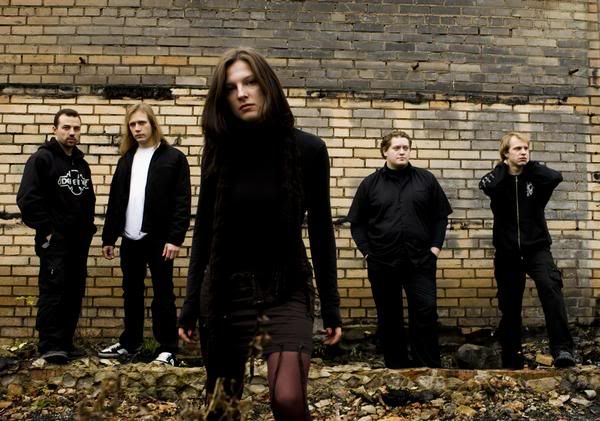 El Evil Emperor: We hope so for you, but you have already drew some good attention to ESP Guitars with your last Deal with them, congratulations on this great step, yet why do you think ESP Guitars chose you, would it be due to the Female Figure in the band in some sort of way? Not saying that Sofia is not sexy at all *Laughing*

   Dmitry Ignatiev: Yes, we got deals with ESP guitars in Russia, but we are not the only ones there, there are also some excellent Russian metal bands! But it's really great honor for us to become a part of the ESP family. We use ESP and LTD guitars over a 5 years, it's really reliable and excellent-sounding instruments! So of course, we handed our album to the Russian ESP director, and he really liked our music, I don't know if it was caused by Sofia *Laughing* so let's think it was about the music. *Laughing*
By the way, now we are preparing some videos with our second guitarist for a special ESP channel, there we will show Russian guys with Shred –Guitar techniques, hope Guitar maniacs will enjoy,  it will be like a Young Guitar series.


El Evil Emperor: Interesting, we'll be all awaiting this.
Let's move on to the next question: You have started producing and selling Merchandise, do the guys in Mazzar Records take care of it, or is it a separate part of your contract?

   Dmitry Ignatiev:  It was fully our initiative to do some merchandise, it was caused by the great Gustavo's cover artwork firstly! But Mazzar is taking care about its distribution, so now in Russia everyone can buy it via on-line stores.


El Evil Emperor: Let us talk about another aspect, Tantal has however been in many performances, any special ones? Ones that have been a highlight in the band's career? And do you have any special pre-concert preparation or anything related?

   Dmitry Ignatiev: Yes, now we are giving a lot of gigs, as for me we have two special performances: The first one is our album presentation, it was a real grand occasion for all of us, because it was our the main aim last two years! And the second one is a live gig with the  Italian legend SADIST, since I was a kid I used to listen to this band, and I can't even imagine that I can do that and share the stage with my "gods" from childhood! It was one of my dream that I realized!
We don't have any preparation before stage, we're always warming up and that's all, and always kidding with each other even on the stage.


El Evil Emperor: With Sadist, this was quite a nice gig I imagine, it is indeed something to cherish.

   Dmitry Ignatiev:  Yes, we were very nervous before the performance, but all was really good!


El Evil Emperor: Indeed, to our last question: Your fears and hope? What is Tantal preparing for us in the near horizon?

Dmitry Ignatiev:  Well, my fear is that people in the near future will stop buying CDs. For me it's not the matter of greed or earning of money, it means for me that there won't be any support of artists and motivating among the bands to play better and do it with a high quality! I mean there won't be any musical competition.
My hopes: Now we are preparing some new material, we have also recorded some demos for the future album! And of course we will try to do it with the highest quality. We will do all our best! And of course I hope we will find our place in foreign scenes.
Watch out for the news on our web site: www.tantalweb.ru or the MySpace page: www.myspace.com/tantalband


El Evil Emperor: It has been a pleasure, thank you so much, the closure is yours.

   Dmitry Ignatiev:  Thank you too! This is our first interview for a foreign Zine! Thanks a lot for the opportunity to tell about Tantal! And we hope that Metal fans all over the world would like our music, *Smiling* you can drop us some line here : www.myspace.com/tantalband. Keep the metal alive!