| | |
| --- | --- |
| |    From the Greek lands of the Gods, hails a very promising Death Metal band: Cerebrum brings us, as its name states, a Death Metal swinging between the core of the mighty Old School and the new brought influences, a music that will definitely get into your Cerebrums and Cortexes, right into your minds. |
El Evil Emperor: Hails Cerebrum, hoping that everything is going well now after you found your new drummer.

    Apollon Zygomalas: Hello! Yes, we really had a problem in the beginning; we tried almost 14 different drummers!

    Mike Papadopoulos: Hello there. Yeah everything is going pretty good. We're really glad to solve the drummer problem for live shows.

El Evil Emperor: And you settled for one from Poland? Do you think it would be an effective choice? It would be interesting if your new drummer matches George Kollias's insane Drum Arrangements.

    Apollon Zygomalas: Well, he's the only one, until now, who is capable of playing these parts perfectly!
He made two Drum Cam-Videos for us, they are available in YouTube also, you can see him, he's amazing!

    Mike Papadopoulos: Yeah it took some months, but he can play the songs.


El Evil Emperor: Interesting. So let's start by the Classic "How did you form the band?" and "When did you start?", but not the same old story you post on MySpace, the real raw stories.

    Apollon Zygomalas: *Laughing* Mike what do you say? I think you have to start this one. *Smiling*

    Mike Papadopoulos: Well me and Jim started the band at around 2002 when we met in an sound engineering school we both attended, we had a common musical taste and so decided to start a band; We met Apollon through the first drummer we had and started working on the first songs.


El Evil Emperor: What kind of difficulties did you meet when you started? Was the Local Scene too crowded already? Though I heard your Demo was among the best-chosen ones when you released it.

    Apollon Zygomalas: Well, our only actual difficulty was that we couldn't find a drummer, this was always the reason that prevented us from playing live shows and promoting our music more.

    Mike Papadopoulos: Local scene, here people don't really care about the local bands. The demo was received pretty good, yes. It was the demo of the month in the Greek Metal Hammer.


El Evil Emperor: Before we get into more details, are you devoted Musicians; or do you yet have other obligations?

    Apollon Zygomalas: Well, we don't have permanent jobs, as we speak, none of us. I'm just finishing my studies and will continue with more studies *Laughing*! Getting my graduation now then going for a masters, but we only do small temporary jobs here to make some money, just that.

    Mike Papadopoulos: Me and Jim just have some non permanent jobs until the tour *Laughing*, just to make some money.
Apollon Zygomalas: Every once in a while, yeah.


El Evil Emperor: We wish you luck then Guys, it's good as long as you keep the Music coming. One might wonder why did it take you three years to release an Opus, was it also due to the Drummer issue?

    Mike Papadopoulos: Primarily! Yes that was the problem. The songs were ready but we could not find someone to play the drums. As Apollon said we tried several drummers but no luck! *Laughing*
But finally we got our friend George to play with us as he really likes our music. And probably he is playing in the second album too.


El Evil Emperor: Since you mentioned Nile's Drummer George Kollias; Your 2009 release "Spectral Extravagance" had its Drums recorded by him, and the Album was mixed by Rotting Christ's George Bokos, and the artwork was made by the same Xaay who did the artworks for Behemoth, Nile, and Necrophagist among others; quite an interesting cooperation, wasn't it?

    Apollon Zygomalas: Well, we went to George Bokos because he was also a friend, together with him we did mix and mastering sessions, and George Kollias suggested us Xaay, who came out to be the best solution for us, he's just perfect in creating our ideas into art!

    Mike Papadopoulos: Yeah it w as easier to work with George Bokos because he is a friend and he lives near us. We had the sound we wanted in our head and it was easier to be able to work anytime we wanted.


El Evil Emperor: And the results came out just fine; however how did you find most of the Reviews so far?

    Apollon Zygomalas: Well, most of them are very good, some are out of the subject *Laughing*; but what can u do? It's complex music and if it gets into the wrong hands it can easily create a bad review. I don't know, I don't think people are listening to music 'correctly', nowadays almost no one reads any lyrics, they just put some mp3s on the playlist, they press play and browse the internet; so how can you expect someone to listen to such an album thoroughly? Only the real fans will appreciate. But we really don't care about all that. We do exactly what makes us satisfied and erected at the same time.

    Mike Papadopoulos: Yes first of all we must satisfy ourselves.


El Evil Emperor: And that's what Music is about.

    Apollon Zygomalas: Exactly. *Smiling*


El Evil Emperor: Zdenek's Lacerated Enemy Records is a very interesting Label, are you satisfied with your current contract with them?

    Apollon Zygomalas: Well, for a first contract for a debut CD, it's ok until now, he's a one-man label and agency and he's very busy, he could do better for sure if he had more staff! *Laughing*

    Mike Papadopoulos: Yeah that's true. It's a pretty small label and he tries as much as he can but it's just a one guy company.

    Apollon Zygomalas: But he's doing the best he can I think, he's a fan of the music and he believes in us, let's see how things roll, the contract is very good by the way...


El Evil Emperor: Was it for one Full-length or more?

    Mike Papadopoulos: The contract is for one album, we'll see how things work out and then decide for our second album.


El Evil Emperor: About the merchandise, Was it your idea, or was it the label's?

    Apollon Zygomalas: Our idea, we gave the ideas and concepts to Xaay, who did this white crazy symbolic design.

    Mike Papadopoulos: Yeah we like to participate in everything that has to do with the band.
Apollon Zygomalas: Yeah, one energy going up.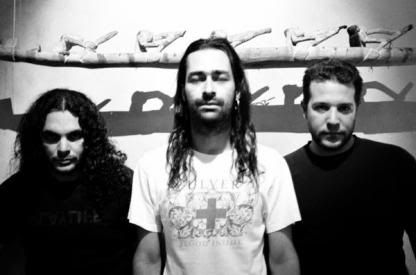 El Evil Emperor: Interesting; so who does the main composing in the band? I doubt that you make most of the Music the experimental way.

    Mike Papadopoulos: I've written 6 of the songs, 2 are written by Jim and the remaining 3 by me and Jim together. We basically bring the music ready and give it to Apollon who writes the lyrics.

    Apollon Zygomalas: All that comes out, come out naturally.

    Mike Papadopoulos: We have a basic drum track too so it'll be easier for Apollon. Then George takes the tracks and records his drums. That's how we did it for "Spectral Extravagance".


El Evil Emperor: I see, so Apollon about the Lyrics of your first Full-Length, what are the main messages you wanted to convoy? And not just topics, but plain messages of the lyrics, if you get my drift.

    Apollon Zygomalas: Well, these are my Cosmo-theories on life itself, kind of things that worry me about everything, that annoy or excite me, things about human behavior and lack of communication with each other, appreciation, quality of life, our ethics and lost values, the corruption in everything; we don't respect nature, we've lost it as a whole. We don't take time to explore ourselves anymore you know? To understand deeper things, and there are these other things too; it's all here, but we can't see it. What's perception and what's really reality? Time and space around us, within us all the time. *Smiling*
Energy man, you know; flow…


El Evil Emperor: Cosmo-universal entities, quite interesting; you might actually be one of the few Death Metal Bands discussing this particular aspect.
Let's move on to talk about the album: I've seen that people ask you often why did you choose Slovenia to record, so let's not repeat the same question here, now what I want to know is the great and funny moments there, and most of all; would you repeat the same thing for the upcoming album?

    Mike Papadopoulos: It was a great experience! We were able to concentrate on our mission. The place was great! We'd do that again for sure. The studio had everything we needed so we had no problems, we knew what sound we were after and as long as it had what we needed the place made no difference.

    Apollon Zygomalas: Great nature and landscapes over there too, amazing place, Alps and Carpathian mountains on the back of the scenery, the lake… Perfect! It was kind of meant to be there I think, for this album to be recorded there… *Laughing*
There was this very funny incident. We were staying in a really old building, like a tower kind of, rotten and old, the funny part was that it belonged to the cops, *Laughing*! They use it in the summertime to have cheap vacations there. When Dali, our sound engineer from the studio, took us there on the 1st day he told us that we were alone in the whole building and that there's nothing to worry about.
But after a couple of hours hanging in there, cooking some food, playing loud music and having a small party, we suddenly see this woman, barefoot, with just a sleeping dress, getting into the room, approaching us, and shouting in Slovenian language! What the fuck had just happened here? We were scared the shit out of us! She was like a zombie, blue veins, white skin.
Eventually, she was there for the weekend with her cop-husband, staying on the top floor of the building and the music was too loud for them! Of course we had to call Dali to come and talk with these strange people, and that was around 2-3 AM!


El Evil Emperor: *Laughing*. So let's move on to something else, your main influences during the composition process? And in General, main bands you listen to? Main Favorite genres? I understand by the way that you're not such a huge fan of the Orthodox Greek Metal Scene?

    Mike Papadopoulos: I like bands like Atheist, Nocturnus along with more unknown ones such as Chemical Breath, Demilich, the German Baphomet; Technical Thrash like Watchtower, Coroner, Voivod, Deathrow.

    Apollon Zygomalas: Also Old School Death Metal, Swedish, American or British.

    Mike Papadopoulos: 70s Prog Rock like Gentle Giant which is my favorite, Jazz-Rock and guitarists like Allan Holdsworth, Frank Gambale.

    Apollon Zygomalas: But there are also many other stuff, apart from Metal, yes the 70's stuff anyway, either in Rock, Folk, Blues, or Jazz from Gong to Dylan, Ambient music also. It's everything you know, all good music. *Smiling*
Now ,as for the Greek scene, I'm not the biggest fan with the orthodox, no.

    Mike Papadopoulos: Me neither.

    Apollon Zygomalas: I prefer later bands such as Inveracity, Sickening Horror, Slavebreed, Dead congregation, and some more I can't remember their names; the scene is rising here.


El Evil Emperor: And what if your Label asks you to do a Cover, for let's say one of the Orthodox Greek Metal Bands, as a tribute?

    Mike Papadopoulos: We don't do what we don't want to do, it's simple. *Laughing*

    Apollon Zygomalas: Maybe, it depends on the band.


El Evil Emperor: How would you exactly describe your local Scene, in Athens and outside in Greece? And how do you perceive the Underground there?

    Apollon Zygomalas: We don't really know. I mean, I don't hang out so much anymore, due to other problems also, so I don't know how the local stuff and underground things move and progress. I usually go however to concerts I like, of Greek bands.

    Mike Papadopoulos: Well there are many really good bands but they don't get the local support.

    Apollon Zygomalas: Only that, but still people are not going to concerts; even if it's a big name there, people don't gather to concerts anymore, only some few loyal ones.

    Mike Papadopoulos: And that's a shame because some of them are great, better than the foreign bands which people here support.


El Evil Emperor: Indeed, it's the same however in the non-Greek scene as well, where people do appreciate much of the Greek bands.
So, what is Cerebrum preparing for us in the upcoming future? Something that will certainly strike our Cerebrums and Cortexes? Are you planning to keep the same Musical directions?

    Apollon Zygomalas: *Laughing* That's for sure, if you like experimental journeys. *Smling*

    Mike Papadopoulos: The music for the second album is ready. You could say it's in the same direction, a bit more experimental, more technical stuff, if u liked "Spectral Extravagance" You'd definitely like this one too. *Laughing*
The label is arranging a European tour also along with some summer festivals.

    Apollon Zygomalas: *I'm really looking forward to get the CD with the songs and start listening to them, then start making vocal lines and lyrics, we hope to release it within 2010

    Mike Papadopoulos: We must however see when George will be available for the recording sessions.


El Evil Emperor: Nice, now since you mentioned it, you have to give us something about your next release; how ready it is, what's new and everything related.

    Mike Papadopoulos: The music is ready, Apollon will now prepare the lyrics and we'll wait for George to record the drums, it'll probably be 12 tracks; I don't think I can say that there are any new influences. We just do what we want to listen to.


El Evil Emperor: One more thing, what about the upcoming Tour? I understand that you haven't performed in any Gigs so far due to the Drummer issue.

    Mike Papadopoulos: The tour will probably be around April along with Gorod and Illogicist.

    Apollon Zygomalas: And our label is trying to book us some festivals also.


El Evil Emperor: Interesting, the Italian Illogicist and the French Gorod, it will be quite an interesting festival.
Last but not least, how do you view the current International Metal Scene?

    Apollon Zygomalas: I'm not so much into the current scene, I mainly listen to my old records, it's very few things I like about the current scene.

    Mike Papadopoulos: I really prefer to listen to Old School stuff but there are some great new bands too of course.

    Apollon Zygomalas: There are other bands in other music genres of course who are perfect in this current age we live in, but not in metal I think, very few stuff…


El Evil Emperor: Metal will however continue to rise, with many bands from the four corners of the World. Thank you, it has been a pleasure to listen to your very interesting Music as I am certain others will find too, and also to Interview you; the closure is yours.

    Apollon Zygomalas: Thanks very much for this man, it's been a pleasure too. *Smiling*

    Mike Papadopoulos: Thanks a lot for the interview; we're glad you liked the album.

    Apollon Zygomalas: Greetings to everyone there, take care!

    Mike Papadopoulos: We hope to see u someday on tour! Cheers!

    Apollon Zygomalas: Or come there for a live show, try to arrange us something like that! *Laughing*