Voici le programme du 4eme Festival Accor de Guitare qui aura lieu comme prévu le 4, 5 et 6 février 2010 au Centre Culturel et Sportif de Jeunes Menzah 6 de 12h à 22h...
Prix : 10dt/Jour et 20dt le pass de 3 jours.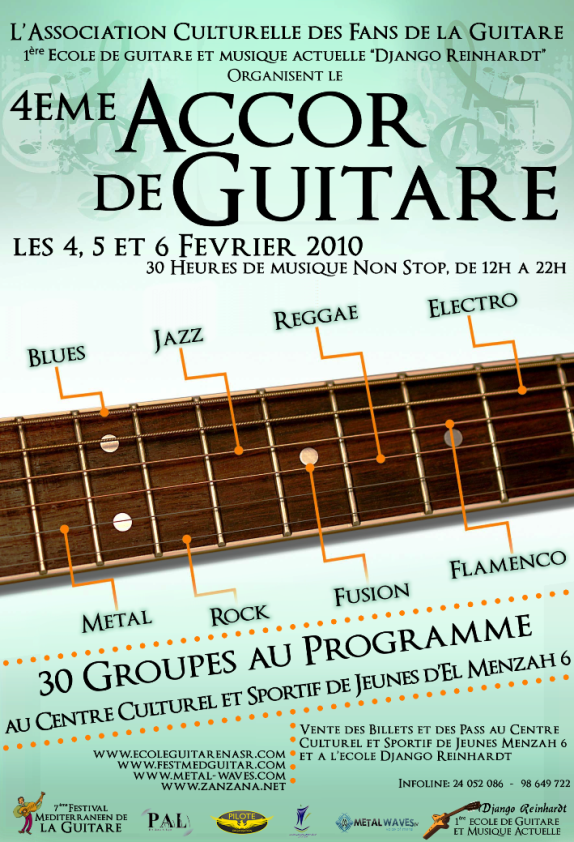 Jeudi 04 février 2010 :

-12h : Build Raw (Metalcore)
-13h : Frozen Fear (Athmospherique Doom Metal)
-14h : Coffin (Neo Metal)
-15h : Infinity (Metalcore)
-16h : X-Virus (Death Metal Progressif)
-17h : The Roots (Reggae)
-18h : Mechanix (Heavy Metal)
-19h : Blow (Grunge)
-20h : Phobia (Death Metal Melodique)
-21h : Cherif Achraf (Projet Guitare Solo)


Vendredi 05 février 2010 :

-12h : Carbon (Metal Progressif).
-13h : Hellmark (Trashcore).
-14h : Out of Control (Sfax , Neo Metal)
-15h : Razzmataz : (Musique Instrumentale)
-16h : Apostol : (Death Metal Melodique)
-17h : Brabra Generation : (Reggae, Rap, RnB)
-18h : Marwa (World)
-19h : Lahab (Electronic Rock Instrumental)
-20h : Vomit The Hate (Brutal Death Technique Metal)
-21h : Flagilation (Black Metal)


Samedi 06 fevrier 2010 :

-12h : Wrong Side Out (Sleedge)
-13h : Extinction (Death Metal)
-14h : Infernal Tragedy : (Metal Melodique)
-15h : Morphine (Groove Core)
-16h : Switch Off (Rock Progressif)
-17h : 13 Days Later (Neo Metal Core)
-18h : Nostalgia (World)
-19h : Pretty Hell (Rock Alternatif)
-20h : Stoned (Heavy Metal)
-21h : Aphonia (Death Metal Technique)


Les groupes sélectionnés doivent envoyer un plan de scène a l'adresse e-mail suivante : fmg@festmedguitar au plus tard le 31 janvier 2010 afin de permettre aux techniciens de son et aux back-liners de préparer leur spectacle dans les meilleures conditions .

 Tous les membres des groupe sélectionnés doivent se présenter 1h exactement avant leur passage, à l'entrée des artistes .

 Les groupes doivent se munir de leurs instruments (guitares, guitare basse, claviers) ainsi que du câblage de leur instruments (fil jack . . .) en bon état de marche, pour les batteurs ils doivent être menés par leurs doubles pédales.

 Le festival fournit une batterie acoustique (les batteurs désirant ramener leur cymbales peuvent le faire), 2 amplis de guitares, un ampli de basse ainsi qu'une sonorisation professionnelle de 14 000w.

 Les groupes programmés ne peuvent intégrer la salle de concert en compagnie du public qu'après leur prestation.

 A la suite d'Accor de Guitare une quinzaine de groupes seront sélectionnés pour le 7eme édition du Festival Méditerranéen de la guitare du 21 au 26 mars 2010 soit sur la scène OFF , scène Jeunes Talents ou scène IN.

  Les 3 meilleurs groupes se verront offrir un enregistrement d'une démo de 4 titres au studio Star 14 de l'école de guitare et musique actuelle Django Reinhardt .

  A la suite de ces enregistrements le meilleur groupe signera avec un label étranger pour une tournée et une production.



www.festmedguitar.com
www.ecoleguitarenasr.com
www.metal-waves.com
www.zanzana.net