| | |
| --- | --- |
| |    Presque deux ans et demi depuis la sortie du dernier album To Hell With God, les Deicide reviennent cette année avec un nouvel  opus, prévu pour le 26 Novembre prochain chez Century Media Records. |

     Le nouvel opus, 11ème album studio du groupe, s'intitule déjà In The Minds Of Evil et verra le jour avec le commencement d'une tournée nord-américaine, fin novembre.
Le groupe vient de révéler l'artwork de l'album, une œuvre du peintre australien Simon Cowell représentant la force de l'esprit, où le mal réside déjà.
Glen Benton chanteur bassiste du groupe pour attirer l'attention de ses fans à dit : "Do you hear that? It's the sound of Satan singing along to the new Deicide! In The Minds Of Evil is like King Kong taking a shit on a daisy."
L'album enregistré dans les Studios d'AudioHammer en Sanford, Florida, est produit par Jason Suecoff (All That Remains, Death Angel, Battlecross).

Deicide - In The Minds Of Evil
"Tracklisting" :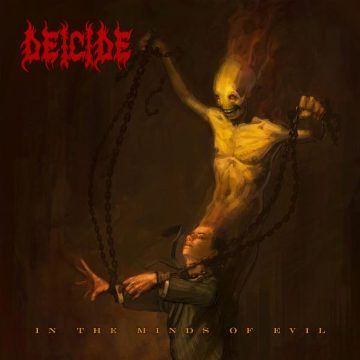 01.In The Minds Of Evil
02.Thou Begone
03.Godkill
04.Beyond Salvation
05.Misery Of One
06.Between The Flesh And The Void
07.Even The Gods Can Bleed
08.Trample The Cross
09.Banished By Evil
10.Kill The Light Of Christ
11.End The Wrath Of God